"BYOPOS" Self-Checkout Solution Saves Retailer 44%
Challenge:
Provide a turnkey and custom self-checkout (SCO) solution, utilizing our customer's existing POS/point-of-sale technology (Bring-Your-Own-POS, or BYOPOS). The new SCO lanes needed to replace existing traditional checkout lanes, requiring light demolition, as well as new power and data infrastructure.
Solution/Approach:
TDX Tech partnered with our customer's store and technology teams to create and implement a project plan to install custom-designed self checkout base-units and existing POS technology into existing stores.
The project included coordinating the fabrication of base counters to securely accommodate existing POS hardware, including terminals, displays, scanners, payment terminals, and printers. The custom-designed counters received surface treatments (paint, laminate, etc.) to ensure the units adhered to the customer's visual branding guidelines. The units also included bagging and storage areas.
Due to the security requirements for self-checkout stations, surveillance cameras, public-view-monitors (PVMs), and DVR servers were also procured and installed.
The project included the removal of existing lanes and equipment, installation of  high-voltage and low-voltage cabling, as well as the installation of the self-checkout base units and POS technology. We are also providing ongoing IT maintenance services for any potential failed hardware.
Results/Outlook
Our customer was able to utilize their existing POS technology, resulting in a savings of up to 44% when compared to the installation of traditional all-in-one self checkout offerings. These retail IT solutions have resulted in a complete return-on-investment (ROI), per store, in 10 to 14 months.
We'd love to help you Do IT Smarter – reach out today to discuss your
technology deployment
projects or IT installation and hardware needs. Call us at
888-777-0532
, or click the "Contact Us" button, below.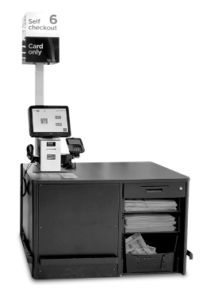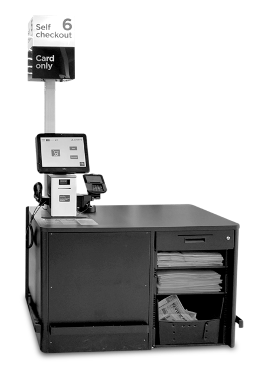 Project Geography: USA, Canada
Project Location Qty: 101-500
Project Device/Unit Qty: 5,001-10,000
Project Competencies:
Site Surveys
Hardware Procurement
Integration & Staging
Technology Deployment
IMAC (Install, Move, Add, Change)
On-site/Field Services
Recent Retail IT Support
Case Studies
Verkada Cameras Installation Helps JOE & THE JUICE Scale Easily
National Deployment, IT Support, and Maintenance for an Arts and Crafts Retailer with 950+ Locations