Retail Technology and Retail IT Solutions
We Understand that Technology Drives Retail
With over 40 years of providing retail technology solutions and retail IT support, we've come to learn what's most important to your technology and project teams. We understand that IT deployment, hardware support, and store roll-outs need to be done right the first time; that hardware must be enterprise-grade, hardened, and reliable.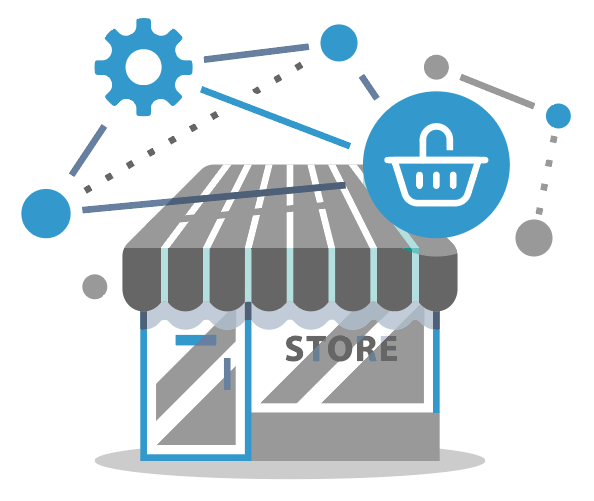 Whether your technology is used in-store, at distribution-centers, or by vehicle fleets, inefficiencies, down-time, and errors are not acceptable!
We also know that both project and financial success can be determined by how careful technology dollars are distributed throughout the organization. Often, we find that many IT professionals and project managers are unaware of the many programs and options available to them when planning their IT project timelines and budgets.
TDX Tech solves seemingly complex technology initiatives with unique, creative, and flexible programs. Our retail IT support and retail technology solutions protect your organization's bottom line.
Creating the Right Retail Technology Solutions
Are your budgets and project timelines keeping you from important store expansions, POS hardware upgrades, customer-experience enhancements, or other digital-transformation initiatives? You're not alone. We hear these types of frustrations from technology professionals quite often.
We look forward to helping build strategic plans that help break through these constraints. This allows you to get more done, in less time, and more reliably than ever.
Professional Services
TDX Tech helps IT and project teams with hardware, infrastructure, and other technology-related solutions, such as these:
Asset lifecycle planning
Hardware procurement (new, used, and refurbished)
Project management (roll-outs, upgrades, etc.)
Hardware integration and staging
On-site field services and support
IMAC (install, move, add, change)
Structured cabling
Hardware maintenance programs (depot, advance-exchange)
Warranty management programs (ticketing, support, repair)
Asset disposition and disposal
IT Hardware & Infrastructure
TDX Tech supports virtually all retail technology-oriented computer and IT hardware, including these and others:
Self-Checkout solutions
Point-of-Sale hardware (e.g., terminals, peripherals, self-checkout)
Barcode scanners (e.g., hand-held, hands-free, scanner-scale)
Networking equipment (e.g., routers, switches, access-points)
Back-office server hardware (e.g., rack-mount, tower)
Storage hardware (e.g., NAS, SAN, SAS)
Surveillance cameras (e.g., cloud-based, IP, analog)
Access-control solutions
IoT (Internet-of-Things) devices (e.g., edge-computing, cloud-solutions)
Mobile devices (e.g., iPads/tablets, iPhones/Android phones)
Printers (e.g., POS, mobile, laser, MFC)
Retail IT Support
TDX Tech helps companies by supporting retail technology hardware and infrastructure for the entire lifecycle. We cover many retail IT support services, including these:
Site surveys to assess your current state and future needs
Break/fix field service repair programs
Advanced-exchange hardware replacement programs
Scheduled maintenance programs
Ticketing and help-desk support services
Help-desk API integrations (e.g., Service Now to TDX Tech and vice versa)
Get Your Retail Technology Solution Started
Do you have one or more retail IT solutions to tackle? Want to ensure your technology dollars are being maximized to their fullest? When you partner with TDX Tech, we become an extension of your IT and project teams, ensuring your projects are done right the first time.t
We'd love to help you Do IT Smarter – reach out today to discuss your technology deployment projects or IT installation and hardware needs. Call us at 888-777-0532, or click the "Contact Us" button, below.
Looking for more on Retail Technology, Deployments, Installation, or Hardware? Search a page tag:
Our dedicated project managers have been partnering with IT and project teams like yours for over 40 years! We'll make your project and technology deployment successful.
Need far-reaching IT deployments, IT installations, or IT support? We provide services and support across North America, including the USA, Canada, and Mexico – we're ready to help wherever your technology projects live.
Seeing and hearing is the easiest way to learn how TDX Tech helps our customers meet their technology needs. Click the video play button above to see what our technology and project teams can do for you.
Recent Retail IT Support
Case Studies
Verkada Cameras Installation Helps JOE & THE JUICE Scale Easily
National Deployment, IT Support, and Maintenance for an Arts and Crafts Retailer with 950+ Locations