People Counting & Intelligent Space Analytics
Benefit from the value of people counting and intelligent space analytics, while protecting the identity of the people who visit your facilities. Plus enjoy enterprise scalability, while ensuring safety.
Density people-counters create efficient, safe, and engaging workplaces.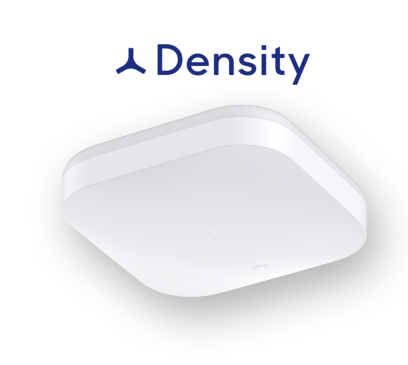 Why Density? 
They're anonymous by design. Unlike cameras, Density people-counting
sensors do not capture any personally identifiable information.
Deploy people-counting sensors across your portfolio for an accurate occupancy network that scales with your business.
Set and monitor building capacity limits with real-time displays, alerting, and public web-links.

Understand how people use open space, with Density's Open Area™


With twice the range and 4x the coverage of camera-based alternatives,
Density is the most scalable, cost-effective system on the market.
Fewer sensors and more coverage
4x the coverage of existing sensor products

Up to a 60% reduction in deployment costs

More flexible coverage

Better people-counting data
Measure everything
Occupancy utilization for any space

Sensitive down to the work-area or square foot

More flexible coverage

Powerful data to help optimize your workplace

Deploying and installing Density's people counting sensors couldn't be easier.
Utilize TDX Tech's
project management
and rollout teams to
centralize and simplify your Density
technology deployment
and
installation. One point-of-contact for your entire project means simpler
and faster on-boarding, saving you valuable time and capital.
We'd love to help you Do IT Smarter – reach out today to discuss your technology deployment projects or IT installation and hardware needs. Call us at 888-777-0532, or click the "Contact Us" button, below.
Download the Density Open Area Sensor Overview
Complete the form below to download the Density Open Area Sensor Overview document. (.pdf format).
If you would like immediate assistance, please call TDX Tech at 888-777-0532.
Need far-reaching IT deployments, IT installations, or IT support? We provide services and support across North America, including the USA, Canada, and Mexico – we're ready to help wherever your technology projects live.
Seeing and hearing is the easiest way to learn how TDX Tech helps our customers meet their technology needs. Click the video play button above to see what our technology and project teams can do for you.
Looking for more on Density People Counting or IoT Deployment? Search a page tag: