Simplify Enterprise Access Control with Verkada, Deployed and Installed by TDX Tech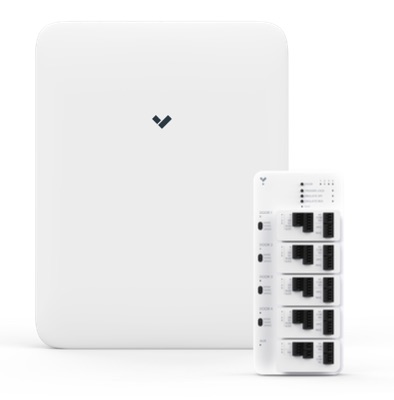 Verkada Access Control combines enterprise–grade access control with a powerful, cloud-based management platform for a solution that's always simple, secure, and ready for scale.
Plug–and–Play Simplicity
Starting with Verkada's Access Controller, users are able to bring plug–and–play simplicity to managing doors and access across their organization. Access Controllers work with your building's existing door hardware and readers.
Easy Management with Verkada Command
Verkada Command is a cloud–based platform that integrates insights across the entire suite of Verkada products, including video security, access control, video intercom, air quality sensors, alarms, visitor management and mail-room products.
For access control, Verkada Command provides:
Easily manage building access, schedules and users.
Integration to active directory platforms ensure that employees are automatically configured, on-boarded and off-boarded.
Through Verkada Command, access control and cameras are connected seamlessly.
Verkada Access Control Features
Cloud–based access control for easy management across all sites and users.
Manage all sites and users across your organization.
Seamless integration with Verkada video security.
Works with existing door hardware and readers.

Secure Touch-less Access with Bluetooth using Verkada's Pass App.
10–year warranty on all hardware.
Verkada Access Control Installations, Made Easy
Utilize TDX Tech's
project management
and rollout teams to centralize and simplify your Verkada Access Control deployment and installation. One point-of-contact for your entire project means simpler and faster on-boarding, saving you valuable time and capital.
Verkada Access Control project planning and management
Access control hardware procurement
Hardware staging and configuration
Asset-tracking and reporting
Access control deployment and installation
20,000+ technician service team
Structured cabling and wiring
Network hardware installation
On-going access control hardware support
We'd love to help you Do IT Smarter – reach out today to discuss your technology deployment projects or IT installation and hardware needs. Call us at 888-777-0532, or click the "Contact Us" button, below.

Get Your Verkada Access Control Questions Answered:
Complete the form below to inquire about Verkada Access Control, Verkada pricing, or related procurement, deployments, and installations.
If you would like immediate assistance, please call TDX Tech at  888-777-0532.
Related Products or Services:
More Verkada articles and info:
According to this Fast Company article, a recent survey from Verkada found that "71% of shoppers…
Need far-reaching IT deployments, IT installations, or IT support? We provide services and support across North America, including the USA, Canada, and Mexico – we're ready to help wherever your technology projects live.
Seeing and hearing is the easiest way to learn how TDX Tech helps our customers meet their technology needs. Click the video play button above to see what our technology and project teams can do for you.
Looking for more on Verkada, Access Control, or IoT Devices ? Search a page tag: