Verkada Command All–in–One Cloud–Based Management Software
With Verkada Command, connect all of your Camera,
Access Control
, and Sensor devices in a single, cloud-based platform. With point-and click simplicity, it's everything you need to protect at scale.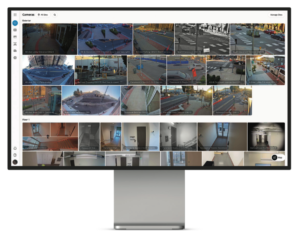 Setup and Manage Devices from Virtually Anywhere
Command, Verkada's cloud–based management software, is designed to deliver simple access and management for all cameras and users across all sites from virtually anywhere in the world.
From Command, users can set up new cameras, create sites, manage settings, access live and archived footage, manage users and access the advanced features powered by Verkada's edge–based analytics.
Not Just Another Video Management Platform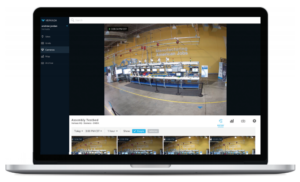 Command allows you to scale with simplicity. Simply add more devices and sites without complicating the user experience.
A "Single pane of glass" interface provides actionable insights with information integrated across devices.
Remotely access and manage your sites from any browser or device.
Quickly Detect and Respond to Threats
Aggregate data across devices within a centralized platform. Verkada Command provides users a complete picture of activity across sites to easily detect threats and expedite response times.
People Analytics
Available for all Verkada cameras, People Analytics combines intelligent edge–based video processing with computer vision in the cloud to give users high–quality images of all individuals identified in the scene. Using People Analytics, customers can filter people by various attributes and expedite investigations.
Vehicle Analytics
A powerful edge–based feature that gives users high–quality images of all vehicles identified in a scene. With Verkada's centralized management platform, customers can filter vehicles by date, time, color and body type.
Automatic License Plate Detection:
Verkada's License Plate Recognition (LPR) solution offers intelligent software that allows organizations to monitor license plates in real-time and streamline vehicle investigations.
Effortlessly Manage Sites at Scale
Eliminate complexity with Verkada Command's intuitive user interface and intelligent automation. Add devices in minutes, while leveraging granular roles and permissions to manage users at scale.
Secure from the Ground Up
Protect data at every stage of its journey. From SSO, granular user permissions, to tools like encryption key management, keep data secure and protect your organization at every layer.
Manage from Anywhere
Access all your Verkada devices and manage physical security on-the-go from our intuitive Verkada Command mobile app. No port-forwarding or VPNs required.
Verkada Deployments are Easy with TDX Tech
Utilize TDX Tech's
project management
and rollout teams to centralize and simplify your security solution deployments and installations. One point-of-contact for your entire project means simpler and faster on-boarding, saving you valuable time and capital.
Verkada Cameras and Access Control hardware procurement
Device staging and configuration
Hardware asset-tracking and reporting
Device deployment and installation across the Americas
20,000+ technician service team
Structured cabling and wiring
On-going Verkada hardware support
We'd love to help you Do IT Smarter – reach out today to discuss your technology deployment projects or IT installation and hardware needs. Call us at 888-777-0532, or click the "Contact Us" button, below.

Get Your Verkada Command Questions Answered:
Complete the form below to inquire about Verkada Security Solutions, including Verkada cameras, access control, pricing, or related procurement, deployments, and installations.
If you would like immediate assistance, please call TDX Tech at  888-777-0532.
Related Products or Services:
More Verkada articles and info:
According to this Fast Company article, a recent survey from Verkada found that "71% of shoppers…
From deployment services, to site-surveys and installations, our field service technicians have you covered. Our technology deployment experts are well-versed on virtually all IT projects and related infrastructure.
Our dedicated project managers have been partnering with IT and project teams like yours for over 40 years! We'll make your project and technology deployment successful.
Seeing and hearing is the easiest way to learn how TDX Tech helps our customers meet their technology needs. Click the video play button above to see what our technology and project teams can do for you.
Looking for more on Verkada Command-related products like Cameras, or Access Control? Search a page tag: