Verkada Cameras – Mini Series Overview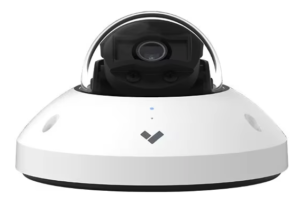 Mini Series Verkada cameras offers flexible, discreet cameras with exceptional image quality. It includes two indoor models (the CM41 and CM41-S) and one outdoor model (the CM41-E), each designed for specific purposes.
These Verkada cameras are suitable for a variety of applications, from corporate offices and retail locations to banks and schools. Customers appreciate the Mini Series for its adaptability and performance.
The Mini Series has standard features like data encryption, onboard storage and advanced motion-based insights, allowing organizations to quickly scale their security coverage and increase situational awareness across multiple locations.
These cameras also have powerful edge processing capabilities that deliver advanced computer vision features, including Verkada's People and Vehicle Analytics.
Uncompromising image quality
Bring clarity to investigations with 5MP, high–definition
sensor resolutions
Effortlessly uncover in-scene details with enhanced digital zoom
Powered on-board processing
Powered by an Ambarella chipset to support Verkada's edge-based video analytics
Low–bandwidth impact, only using 20–50 kbps per camera at rest
Verkada camera certifications
IP67 weather rated outdoor models
IK10 impact rated outdoor models
IK08 impact rated indoor models
NDAA compliant
Looking for Verkada pricing? Follow the link below to learn more about standard Verkada pricing, or complete the form at the top of this page and we'll have a TDX Tech expert follow-up with you to provide a unique quote. More about Verkada pricing »
We'd love to help you Do IT Smarter – reach out today to discuss your technology deployment projects or IT installation and hardware needs. Call us at 888-777-0532, or click the "Contact Us" button, below.
Get Your Verkada Camera Questions Answered:
Complete the form below to inquire about Verkada cameras, Verkada pricing, or related procurement, deployments, or camera installations. If you would like immediate assistance, please call TDX Tech at  888-777-0532.
Related Products or Services:
More Verkada articles and info...
TDX Tech for Verkada Installations: 10 Reasons Expertise: TDX Tech has extensive expertise in the field…
Looking for more on Verkada Cameras, Surveillance Cameras, IP Cameras, or IoT Devices ? Search a page tag: