Verkada Cameras – PTZ Overview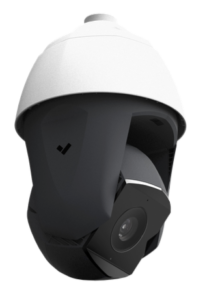 Verkada's CP52-E pan-tilt-zoom (PTZ) camera gives operators control over the camera's field of view, enabling dynamic monitoring of large areas. Equipped with a 5MP image sensor, the CP52-E boasts broad 360-degree pan and 220-degree tilt capabilities. 
Operators can use this camera to investigate moving subjects and capture comprehensive footage as events unfold across vast spaces, all with remarkably low-latency (<500 milliseconds). 
Additionally, the CP52-E features 28x optical zoom to capture finer details of the scene. With an infrared range (IR) of 100m / 328ft, the CP52-E delivers excellent detail even in low-light conditions.
The CP52-E camera is designed with a turret style to optimize usability. It incorporates advanced motor mechanisms that allow for quick and seamless transitions between positions, providing operators with smooth and effective control. The turret design also enhances its range of motion, offering more degrees of freedom and effectively reducing blind spots.
The CP52-E is IP66 weather rated for highly-exposed outdoor installations. The exterior housing provides IK10 protection against direct impacts from vandals, hail and flying debris. Like all Verkada cameras, the CP52-E works out–of–the–box without any additional configurations. All CP52-E cameras come with a 5-year warranty.
Coverage
5MP high-definition image resolution
28x optical zoom
360° pan, 220° tilt
100m / 328ft IR illumination
Storage and processing
512GB-3TB of onboard storage
Up to 180 days of retention in standard quality
Edge processing for motion, people and vehicle analytics
Sentry Mode (coming soon)
Automatically capture zoomed high quality images of people or vehicles
Specify region of interest for image capture.
Looking for Verkada pricing? Follow the link below to learn more about standard Verkada pricing, or complete the form at the top of this page and we'll have a TDX Tech expert follow-up with you to provide a unique quote. More about Verkada pricing »
We'd love to help you Do IT Smarter – reach out today to discuss your technology deployment projects or IT installation and hardware needs. Call us at 888-777-0532, or click the "Contact Us" button, below.

Get Your Verkada Cameras Questions Answered:
Complete the form below to inquire about Verkada cameras, Verkada pricing, or related procurement, deployments, or camera installations.
If you would like immediate assistance, please call TDX Tech at  888-777-0532.
Related Products or Services:
More Verkada articles and info...
According to this Fast Company article, a recent survey from Verkada found that "71% of shoppers…
Looking for more on Verkada Cameras, Surveillance Cameras, IP Cameras, or IoT Devices ? Search a page tag: